By: Holly Walker and Bianca Zanotti
Toronto prides itself on being a city that promotes inclusivity and diversity, yet much of its infrastructure and urban landscape promote the opposite.

From storefronts without ramps, buildings without elevators, and crosswalks without accessible pedestrian signals (APS), the city is riddled with accessibility roadblocks. However, the barriers don't begin and end on city streets — navigating one's own home can also prove a difficult feat.

Fifteen-year-old Riya Karumanchi is trying to improve that with the Smart Cane.

The Smart Cane is a modern version of the white cane. Traditionally, the white cane only detects ground-level objects and is not equipped with any technological features.

The Smart Cane, however, is equipped with GPS navigation, which vibrates to let the user know where to go — one buzz for a left turn, two for a right. The cane also includes an ultrasonic proximity sensor, which notifies the user of objects that may be harmful from the knee to head height.

"I wanted to see how I could implement coding to increase mobility and autonomy," Karumanchi said.
The existing barriers

According to the Canadian Encyclopedia, Canada has approximately 830,000 people who are visually impaired.
In 2005, the Accessibility for Ontarians with Disabilities Act (AODA) was implemented to all levels of government, non-profits and private businesses.

The AODA aims to make the province barrier-free for people with disabilities, ensuring they have equal access to programs and services and to improve their opportunities.The goal is to have a fully accessible Ontario by 2025.

"Canada will be at its best when more people with disabilities can contribute to the economy and society," said Abdullah Snobar, executive director of the Digital Media Zone (DMZ) at Ryerson.

While the AODA is a positive step forward, flaws exist in its enforcement. Specifically for people with vision impairment, existing infrastructures such as curb cuts are only updated under the act if a new renovation or construction takes place.
Karumanchi said that using technology to increase accessibility is important for a barrier-free society.

"We're making a lot of progress in terms of that, but it's important that we get that done faster," she said.
The article continues after the multimedia.

Creating the Cane

A few years ago, Karumanchi was visiting a friend when she noticed their blind grandmother bumping into objects, despite having a traditional white cane. She realized there was no technical advancement to the cane and saw possibility for improvement.

Along with object detection and GPS navigation, the Smart Cane also has features such as audio feedback, which directs a person to a destination, and computer vision to describe their surroundings and recognize family and friends.

Compatible with both iPhone and Android, the hardware in the cane integrates with the user's smartphone and leverages the camera and GPS.

According to Heather Willis, accessibility co-ordinator at Ryerson, when making products designed for those with disabilities, it's important to include their feedback in the process.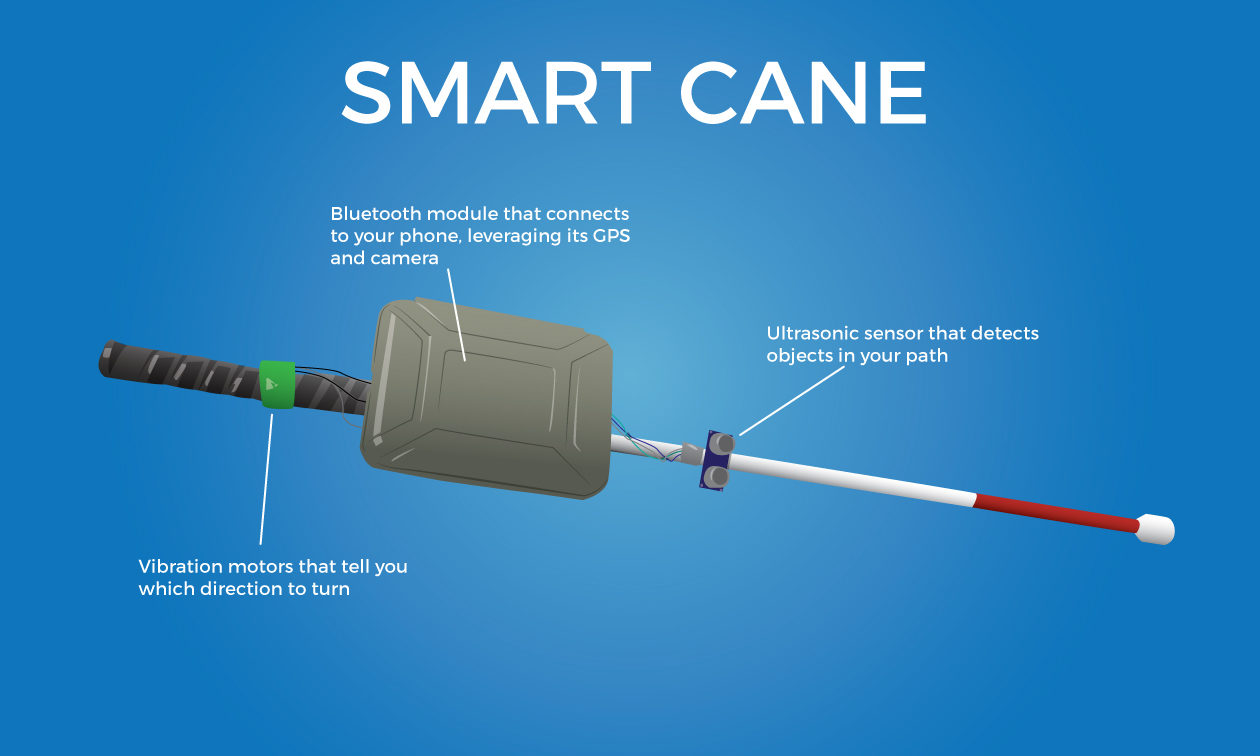 Karumanchi tested the Smart Cane with friends and peers who are visually impaired.

"We've gotten a lot of feedback from them," Karumanchi said. "Every feature we've added is intentional."

This past summer, Karumanchi took part in Ryerson's DMZ Basecamp, Canada's first annual summer incubation program for youth. The eight-week program helps select students build and take their companies further.
So far, Karumanchi and her team of 11 have secured about $65,000 in funding and services from companies like Microsoft.

The Smart Cane is currently a prototype, and the team is hoping to get its minimum viable product (MVP) by December. An MVP is a new product that is created with sufficient features for first-stage consumers and product testing.

By next year, Karumanchi said she hopes to have two pilot projects with Cambrian College and the Canadian National Institute for the Blind.

According to Snobar, startups like Smart Cane are part of the culture change that will allow people with disabilities to wholly participate in the economy, thus making a more prosperous Canada for all.

"When we have the technology to come up with a solution, it's just a matter of implementing it," said Karumanchi. "That's the thing that will enable more accessibility within the city of Toronto and around the world in general."
This is a joint byline.
Ryersonian staff are responsible for the news website edited and produced by final-year undergraduate and graduate journalism students at Ryerson University.
It features all the content from the weekly campus newspaper, The Ryersonian, and distributes news and online multimedia, including video newscasts from RyersonianTV.
Ryersonian.ca also provides videos, images, and other interactive material in partnership with the School of Journalism.