Last month, it was just over 20 Ryerson faculty members who protested Ryerson's sourcing of American Apparel clothing due to "sexist" advertising. It wasn't a student campaign, or even a university-wide boycott — and still isn't.
Perhaps because American Apparel ads are known for testing the limits, we've become complacent to its exploitation by the virtue of being "cool" or "hipster." Like one image American Apparel used of a woman bent over in a skirt and thong, with her taut, cleansed (possibly bleached) asshole in plain view.
That went beyond the "normal" kind of oversexualization I was used to seeing in American Apparel ads. And after so many years with so many advertisements, American Apparel's penchant for sexualizing and infantilizing its female models has become a "normal" kind of thing.
By "normal" I mean that within a city block on Dundas and Gerrard Sts., I was able to scrounge these photos from Ardene, H&M, Forever 21, and Aldo in less than five minutes:
These women are white. Thin. Symmetrical. Blemish-free. Body hair? Scarce. They don't work, but they have money — or do they work? Is that a tie? No, wait — she has no pants. I'm confused.
This kind of "normal" sexism is implicit; we're used to it. We expect it.
Critics of sexism in advertising are largely in the defense of women. While it's true that men suffer a similar plight with advertising's standards of male beauty (largely tall, rich, white, and dominant), I do have to bring attention to the fact that the anus of the person in the AA advertisement this summer was not the anus of a male — it was the asshole of a female.
The time I spent trying to be the ideal female portrayed in the ad world is equivalent to the time a man has spent trying to be the ideal male. Both are a long road away from home.
A butthole on the side of a shopping bag on my front porch wasn't what led me to feminism, though. It was in a class on homelessness where I started to take a liking to the newly minted "f-word". I started to feel more comfortable saying phrases like "As a feminist," at the dinner table, even with my white, fairly conservative family balking at it and saying, "Oh, enough with this feminism stuff."
Now, you may ask: homelessness and sexism? How could we possibly compare a person sitting on the sidewalk with a sleeping bag, Tim Hortons cup, missing teeth, and dirty fingernails to a white, symmetrical, Superman of the advertising world?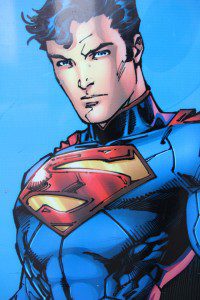 Because the description I just gave of a homeless person does not fit into the ideal images in the ad world — and neither do most of us.
But this is how we're being portrayed. This is the message "normal" advertising has been telling us our entire lives. And after years spent trying to fit into its definition of "normal," I have spent the years in succession unlearning that concept of normality.
The consequence of categorizing people in this way is that each person becomes a "kind" of person — almost "basic", one could say. And when we begin to think of people as "them" instead of part of our collective humanity, they become much easier to objectify. Easier to exclude. To hate.
Some awareness has been brought to the suffocating homogeneity of sexist ads, like the well-known Dove Campaign for Real Women and the UN Women's "Autocomplete Truth" campaign. "Top 10 most sexist ads of 2013" is a headline. #Notbuyingit is a hashtag.
But it was only a matter of time before consumers realized that Dove's parent company, Unilever,  was still selling problematic Fair and Lovely skin-whitening creams in India, a direct contradiction to the "love yourself" message they preached.
And then American Apparel came in with the blaring anus image. Graphic ads, similar to that picture, were banned in the U.K. by the country's Advertising Standards Agency, but no such action has been taken in North America.
Who protested the anus? It wasn't me, and it wasn't students on campus. It was just a few faculty members who led the charge against AA, sitting in their dimmed offices writing emails to sourcing agents at the Ryerson bookstore.
Where were the rest of us? Wearing the new "Acid Wash Short Sleeve Hammer T-Shirt"? I saw that image. I know I did. But I didn't say anything. Maybe because it was just a stone's throw away from what I'd expect to see — what I'm sold. "Oh, now it's an anus? Typical American Apparel."
We barely notice. And that's what concerns me the most.
To Read more about how Ryerson faculty is pushing for ethical clothing sources, read more here at The Ryersonian.
Lindsay was the managing editor for print at The Ryersonian and was previously an intern with CBC-TV's the fifth estate, an investigative documentary program. She focused on digital journalism, advanced research methods and reporting. She is an environmental pragmatist, advocate for freedom of expression, freedom of information and euthanasia of urban raccoons.
Lindsay graduated from the Ryerson School of Journalism in 2015.