Assaults on Ryerson's campus have been on the rise, representing the largest portion of security alerts in recent years.

As of early November, the Ryerson community has received 131 emailed security alerts this year— a 167 per cent increase from the 49 alerts issued just three years prior, in 2015. Assaults account for 64 per cent of this year's total alerts.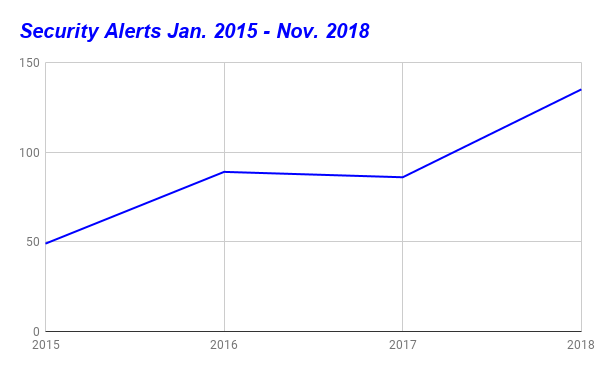 "Overall, there has been an increase in incidents on campus," Ryerson president Mohamed Lachemi acknowledged in an email.

With the increase of incidents recently coming to light, Ryerson professor David Atkinson, who was assaulted in 2015, came forward to voice his concern for campus safety.

He said he's worried about the safety of faculty and students.

"There's clearly been an increase [in security alerts]," said Atkinson. "The emails that used to have one alert, now are coming out with two, three, four. . ."

"I understand the challenges of a downtown university campus," said Atkinson. "I think security is doing what they can, but the university needs to at least address the problem openly and offer additional solutions."

Toronto Police Service has also seen an increase in reported assaults in the Church-Yonge corridor, where Ryerson's campus is situated.

Atkinson spoke to the Ryersonian about his own violent encounter on campus. After teaching a late evening class in Jorgenson Hall, Atkinson says he left the building and walked toward Gerrard Street, where a man punched him in the face before entering Jorgenson's center-east stairwell and assaulting another person heading to the basement.

Atkinson witnessed the assault in the stairwell and says he was able to identify the suspect to a police officer, who later arrested the man. The next day, Atkinson received an alert about the second assault in Jorgenson Hall, but not his own. He followed up with security, but said he never heard from them again.

"It's one thing for me as a faculty member," he said, "but there are students here. Safety is an issue."

Ryerson has several resources on campus for people who have experienced an assault. However, it's unclear how support services are delivered or how often security follows up with victims.

"If there is an assault on campus and if Toronto Police Service begin an investigation, Ryerson's role shifts to supporting the survivor in whatever next steps they would like to take," wrote Lachemi. "That can range from getting them additional medical attention to directing them to the resources on campus that can provide additional guidance and support."

The Ryersonian investigated the increase in university security alerts by requesting security records dating back to 2015. Using terminology from each alert, instances were categorized by type of incident. Subsequently, the Ryersonian requested report numbers under the Freedom of Information and Protection of Privacy Act, and is waiting on their release. Security would not release report numbers for incidents involving Toronto police.