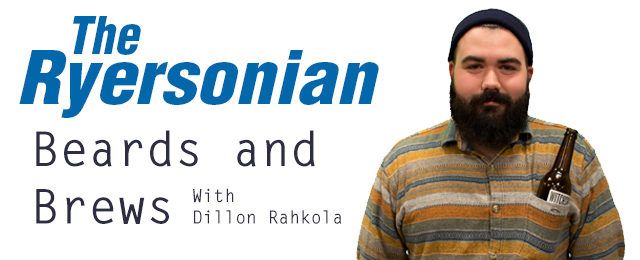 November 8th is International Stout Day. It's a day to celebrate all things dark and delicious in beer.
One local microbrewery in the city has been pumping out some seriously fantastic stouts in the past few months. Named one of the top three new breweries in the world in 2012, Bellwoods Brewery is changing the way Torontonians look at beer.
The small-scaled microbrewery located on the Ossington strip is serving up incredible fresh and unique beer available on draught in their brew pub, as well as in bottles to take home with you. Bellwoods has been open for just under two years and has already produced over 100 beers. In short, this brewery is damn impressive.
To help celebrate International Stout Day, we have reviewed two great stouts on completely different sides of the spectrum: Grognard session stout and Hellwoods imperial stout.
Bellwoods Brewery (Toronto)
Grognard
3.8 per cent ABV (Alcohol by volume)
500 ml bottle
Available at Bellwoods Brewery, located at 124 Ossington Ave. for $4.50
Grognard is labeled as a session stout, meaning it is a lighter and dry version of the style with lower alcohol content. Served from a bottle, this stout pours an exceedingly dark brown colour. It is almost black, but not quite. It produces a thin tan head that disappears nearly immediately. On the nose, the smell of chocolate malt and light coffee are present throughout. My first thought when I sipped it was how much flavour it exuded for such a low alcohol beer. On the palate, roasted malt, slightly bitter chocolate and a tiny bit of a hop presence are noticeable. There is also a nut quality coming through at the end of the sip that lingers until the next.
Overall, Grognard is an incredibly drinkable, refreshing and light bodied stout. It's nice to find a local, lighter, full-flavoured stout served in bottles. It's a sensational addition to Bellwoods' already fantastic line up.
Bellwoods Brewery (Toronto)
Hellwoods
10 per cent ABV (Alcohol by volume)
500 ml bottle
Available at Bellwoods Brewery, located at 124 Ossington Ave. for $8.00
Hellwoods is Bellwoods' version of an imperial stout and it's a damn good one. The 10 per cent stout pours a beautiful, pitch-black colour and produces an extremely thin brown head that disappears in seconds. Visually, this is a gorgeous beer. On the nose, huge roasted malt notes and the slight smell of alcohol are present. On the palate, this is a huge beer. As it warms up in the glass, you start to truly experience the flavours that this beer has to offer. Hellwoods tastes of burnt chocolate, molasses, espresso and dark fruit. This is a thick and chewy imperial stout that packs a punch even though the alcohol is well hidden for a 10 per cent beer. This being said, it still leaves you with a boozy warmth in your chest while drinking.
Bellwoods Brewery has done a great job with this imperial stout. Make sure to pick up Hellwoods as the cold weather rolls in. It is sure to warm you up.