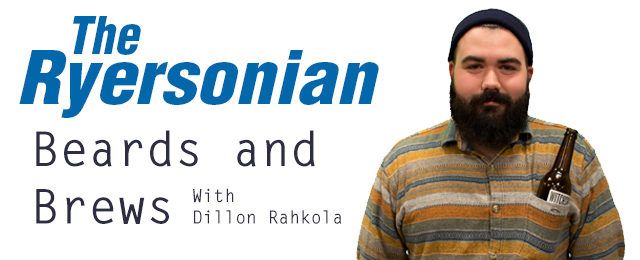 Goose Island Beer Company is a craft brewery known for brewing world-class beers out of the windy city. Recently, it has been known for being bought by brewing giant and largest beer company in the world, Anheuser-Busch, which produces the swill known as Budweiser.
There was severe backlash when they announced the deal in 2011, with many die-hard independent craft beer fans vowing to boycott the product. Regardless of where your loyalty lies in the issue of Goose Island "selling out," there is no denying that Anheuser-Busch has done nothing but help this Chicago brewery.
Anheuser-Busch began to distribute its recently acquired Goose Island brand to Ontario earlier this year. In April we started to see two beers, Sofie, and Matilda, popping up in LCBOs across the province in beautiful eye-catching 765-ml bottles. This shipment of Belgian style ales filled a noticeable void in the craft beer scene in Ontario.
I've never said this before but, thank you Anheuser-Busch!
Goose Island Beer Company (Chicago)
Sofie (Belgian Style Farmhouse Ale)
6.5% ABV
765 ml bottle
Available at the LCBO for $9.95
This Belgian style farmhouse ale, also known as a saison, pours a hazy golden yellow. It pours very similar to champagne, producing an incredible large and active head, which quickly settles down to a much more manageable two finger thick head. Sofie is bottle-conditioned and contains wild yeast, so it has a very active carbonation.
On the nose, a big hit of citrus zest, mostly lemon and orange. There is also a noticeable wild yeast funk that always smells incredible. On the palate, you first notice a dry sourness from the yeast. Quickly after, a flood of citrus and fruit flavour, mostly orange and banana, finishing dry with slight pepper notes. The sweetness from the fruit and the tartness from the yeasts balance perfectly.
As you continue through the bottle, you'll find a bit of yeast sediment near the end of the bottle, but don't worry, yeast is good for you.
Sofie is an incredible Belgian saison. It is light, drinkable and so enjoyable. Even non-beer drinkers will love this one.
Goose Island Beer Company (Chicago)
Matilda (Belgian Style Pale Ale)
7% ABV
765ml bottle
Available at the LCBO for $9.95
Matilda is a Belgian style pale ale that has been re-fermented with brettanomyces yeast. Usually, brettanomyces produces an off-flavour in beer that is uninviting but, when used properly, it can add a pleasant tart sourness to beer. It also preserves and keeps hops fresh in the bottle, so this should work wonders on Matilda.
This beer pours a hazy amber colour and produces an off white head that is about two fingers thick, which quickly disappears and keeps a thin layer of foam throughout.
On the nose, mild fruit and light floral hops are faintly present. A noticeable funky sour smell from the brettanomyces really adds another element to this Belgian pale ale. On the palate, a very pleasant malt backbone and saaz hops are pushed to the forefront. Saaz hops contribute to the already earthy and spicy characteristic found in the yeast. Dark fruits, mostly a plum taste, round out the beer while it finishes with a bitterness that lingers until the next sip. There is also a decent amount of heat from the alcohol as well.
Matilda is a great example of what can be done with this style of beer. With the brettanomyces and the saaz hop profile working well together, this beer also has the chance to age extremely well. I would guess that with some age, it would produce heavier, darker fruit notes with a strong bitterness. This is a fun and funky example of a Belgian pale ale.