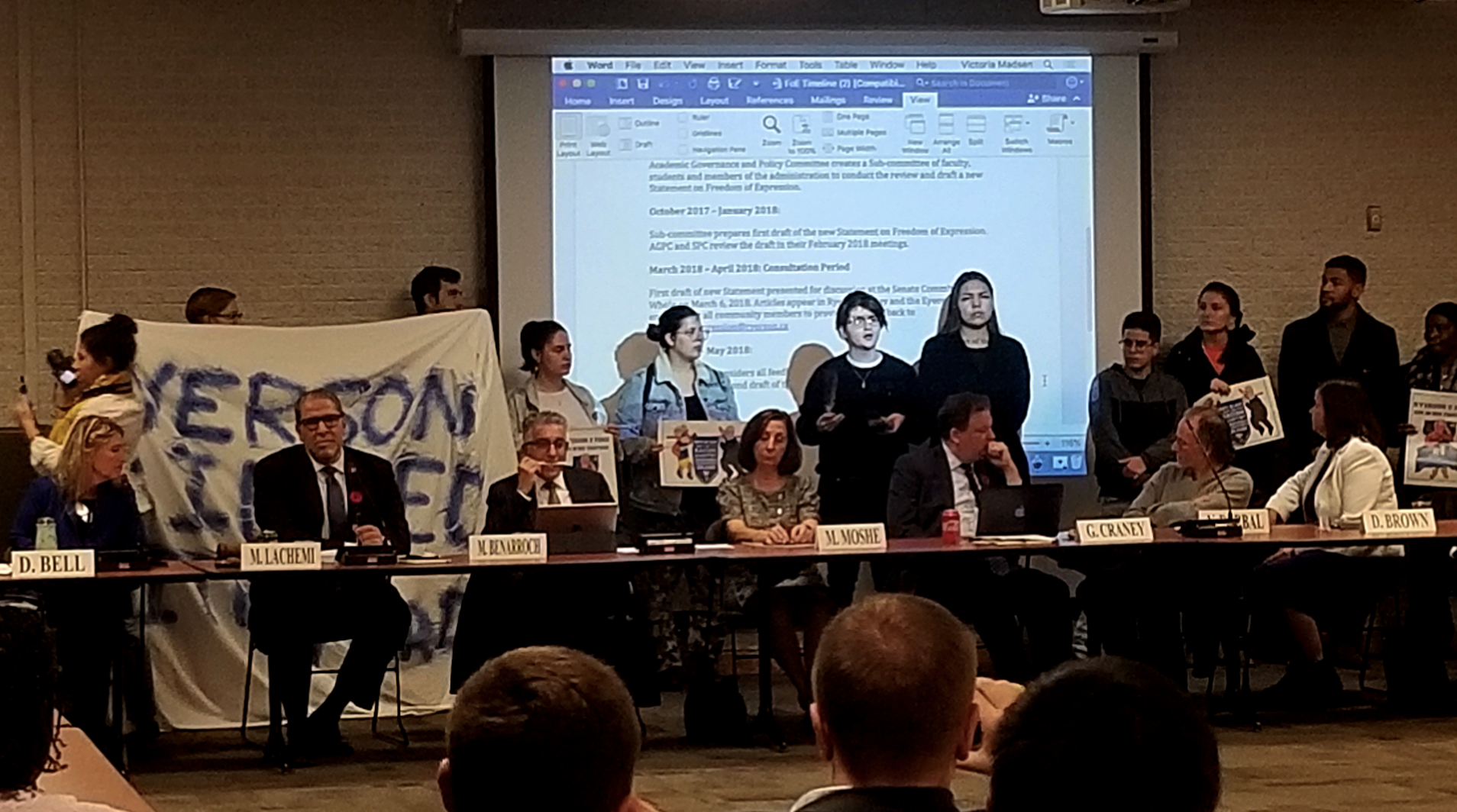 Ryerson president Mohamed Lachemi adjourned a senate meeting early last night after several left-wing groups arrived in the chambers to protest the university's draft statement on freedom of expression.

The disruption delayed the senate's vote on the draft, which if passed, would have been sent to the Board of Governors to form policy.

The protesters say Ryerson's statement on freedom of expression would allow racists and right-wing extremists to speak on campus, and prevent oppositional groups, including marginalized groups,  from disrupting events by penalizing them with disciplinary measures, including expulsions.

Shortly after the motion to adopt Ryerson's draft statement was put forward, dozens of activists walked through the doors and surrounded the senators, chanting "whose campus? Our campus!," a chant which was repeated continuously throughout the meeting, leading to the adjournment.

This protest came only one day after the Black Liberation Collective (BLC) announced it would do everything in its power to to stop the freedom of expression draft from being approved, issuing an open letter to Lachemi on social media.

In the letter, the BLC demanded that Lachemi pull the statement before it went to the senate, and that Ryerson reflect on the restrictions that the statement places on groups like the BLC to fight for freedoms.

This time, the BLC came in with reinforcements, including members of Indigenous Students Rising, the Indigenous Students Association, and Socialist Fightback at Ryerson.

Josh Lamers, co-founder of the BLC, stood in the senate, among dozens of allies, and asked, "how could you imagine that this [free speech statement] is for black students, Indigenous students, who experience the most harm on campus?"

Lamar was referring to a paragraph in the new draft, which references traditionally marginalized groups.

Ryerson recognizes that at times free expression may harm and/or further marginalize community members from visible and invisible minority groups including, but not limited to those from groups based on Indigeneity, class, race, ethnicity, place of origin, religious creed, spiritual belief, sexual orientation, gender identity and expression, age, and ability. In such cases, all members of the university community should be encouraged to respond with an educational and intellectual approach that increases awareness and consideration of diverse positions.

Lamers accused the senate of using its own equity language against them.

One senator asked Lamers what he would recommend.

"We recommend an oppositional stance against (Ontario Premier) Doug Ford," he said, before also recommending a reduction in salaries for senators who earn $100,000 or more, which is disclosed on Ontario's sunshine list.

Several faculty members voiced their concern over the draft statement as senate chairs emptied and people began to leave. Steve Daniels, an associate professor in the RTA School of Media, requested the senate stay and listen to him speak as he read a letter signed by 20 faculty members.
Daniels said that several weeks ago, during a regular meeting with RTA faculty, he raised the issue of transparency with regards to the draft statement.

"There was a complete gap in people's knowledge around this issue and how it might impact us and how we work from day-to-day," said Daniels, who recommended more information sessions and possibly adding more information in Ryerson Today, "articulating how this new layer from the provincial government is impacting that discussion."

The senate subcommittee began reviewing the senate statement on freedom of expression in March. An article in Ryerson Today was issued shortly after, requesting feedback from the community.

The consultation process began on March 6, and community members were able to offer feedback via email until April 2. The subcommittee, made up of 14 people, received 20 emails offering feedback.

The draft statement has undergone a series of changes in response to this feedback from the community and on-campus protests. While the old draft statement was 609 words, the new draft statement is 719 words.

In September, Ford said colleges and universities will either submit free speech policies by January or face funding cuts. Ford's announcement has put a spotlight on Ryerson's freedom of expression draft statement.

Ford also said that all statements must be consistent with the University of Chicago's statement on freedom of expression, which the provincial government says is "strong and clear." But, groups protesting the senate have taken issue with the language used in Ryerson's draft statement, which can also be found in other university statements.

In particular, Ryerson says its new draft statement is informed by previously adopted statements at Wilfrid Laurier University, Yale University and Princeton University.

Ryerson public affairs says it will provide an update on the senate vote in the next couple of days.