Medianyky: Honey lace cookies
Ukraine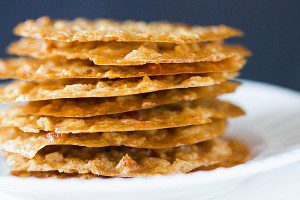 Ingredients:
2 tablespoons unsalted butter
2 tablespoons light-brown sugar
1 1/2 tablespoons honey
2 tablespoons all-purpose flour
a pinch of salt
Directions:
1. Preheat oven to 375 degrees F.
2. Cover two large baking sheets with parchment paper and set aside.
3. In a small saucepan, melt the butter, sugar and honey.
4. When melted, transfer to a bowl and whisk in flour and salt until smooth.
5. Working quickly, drop 1/2 teaspoon of batter onto baking sheets. Leave about 3 inches in-between cookies to allow them to spread.
6. Bake about 6 minutes, or until cookies spread and turn golden brown.
7. Let the sheet cool completely, and carefully remove cookies with fingers from pan.
A Ukrainian Christmas favourite, these honey cookies are traditionally cut into shapes such as stars, crescents or circles. For that extra touch, you can thread a ribbon through them and hang them on the branches of your Christmas tree.
Ukrainians celebrate Christmas Eve in a special way. The celebration is marked by the traditional Christmas Eve Holy Supper, which begins when the first star appears in the eastern sky. It's the children's job to look for the first star. An extra place is set at the table for departed family members and the empty seat also serves as a reminder that passing strangers are always welcome.
Vanillekipferl: Vanilla cookies
Germany
Ingredients:
2 cups all-purpose flour
2/3 cup powdered sugar
1 egg yolk
1 tablespoon vanilla extract
1/4 teaspoon salt
1/2 pound softened, unsalted butter
1 1/2 cups ground raw almonds
Directions:
1. Knead all the ingredients except for powdered sugar in a mixing bowl for 3-5 minutes.
2. Form the dough into a large ball.
3. Cover the bowl of dough and refrigerate for one hour.
4. Form small balls of dough (about 1-2 tablespoons) that will still be somewhat crumbly.
5. Mold each ball into a crescent or half-moon shape.
6. Carefully place each crescent onto a greased baking sheet.
7. Bake in 350 degrees F oven for 10-15 minutes.
8. Once cooled, dust cookies with powdered sugar.
Vanillekipferl is a traditional Christmas cookie, originating in Austria, but has become popular in Germany and Hungary. The cookies were made in celebration of the Austro-Hungarian Empire repelling an invasion from the Ottoman Turks. Bakers made the cookies in the shape of crescents to symbolize the Turkish flag and they have been a tradition ever since.
Christmas preparations in Germany usually begin the eve of December 6th on Nikolaustag, St. Claus Day. Children traditionally leave a boot or shoe outside that night and awake to find it filled with presents if they've been good, or a rod if they've been bad.
Shortbread cookies
Scotland
Ingredients:
1 cup softened unsalted butter
3/4 cup powdered sugar
1 teaspoon vanilla extract
2 1/2 cups all-purpose flour
holiday sprinkles (optional)
Directions:
1. Preheat oven to 350 degrees F.
2. In a large bowl, beat butter, powdered sugar and vanilla with a spoon. Stir in flour.
3. Roll out dough to 1/2 inch thick on a lightly floured surface and cut into small shapes with cookie cutters. Top with sprinkles if desired.
4. Place 1/2 inch apart on a ungreased baking sheet.
5. Bake 14-16 minutes or until bottoms are lightly golden brown and let cool completely.
Scottish shortbread, or "shortie", is the most famous of all Scottish biscuits and is made around Christmas. It is also an essential part of a traditional Scottish New Year.
A long time ago, there was a superstition that it was bad luck for the fire to burn out on Christmas Eve. This was because Scots believed elves were about, and only a raging fire could keep them from coming down the chimney. Scots mark their biggest celebration on New Year's Eve which is called Hogmanay.
Palmier: Elephant Ears
France
Ingredients:
one sheet puff pastry
1 cup sugar
1/8 teaspoon salt
Directions:
1. If the puff pastry is frozen, follow directions on package to bring it to the right working temperature (you can usually leave it in the refrigerator overnight to defrost, but be sure to keep it cool).
2. Preheat oven to 400 degrees F.
3. Line a baking tray with parchment paper.
4. In a medium bowl, mix sugar and salt together. Pour about 1/4 cup of the mix on the flat surface that you will be using to roll out the puff pastry.
5.Unfold the sheet of puff pastry on the mixture and pour the rest of the sugar mix on top. With a rolling pin, lightly roll the pastry until it's about 13 inches square, and the sugar mixture is pressed into both sides of the pastry dough.
6. Roll up the left side of the dough inward, and stop in the middle of the pastry sheet. Roll up the right side of the pastry. The two rolls should meet in the middle and be touching. Press the two sides together gently and let dough chill in the fridge for 15 minutes.
7. Once chilled, cut pastry dough into 1/2 inch slices and place on the lined baking sheet, pressing some extra sugar on top before baking.
8. Bake on middle rack for 10-15 minutes until golden brown.
9. Remove from baking sheet, let cool and serve.
These flaky pastries are commonly called palm trees, elephant ears, french hearts or glasses because of their fan-like shape. They originated in France, but are also part of German, Spanish, Italian, Jewish, Chinese and Portuguese culture.
In eastern and northern France, Christmas celebrations begin on December 6th with la fête de Saint Nicolas and in some provinces, la fête des Rois. Most provinces celebrate Christmas on December 25th, similar to Anglo-Saxon culture. In 1962, France passed a law declaring that all children's letters written to Santa Claus would be responded to with a postcard.
Zalabia fritters
Egypt
Ingredients:
Batter:
4 cups all-purpose flour
1/2 teaspoon salt
1/2 lemon, juiced
2 2/3 cups warm water
1 pkg of active dry yeast
light vegetable oil for frying
Sugar Syrup:
5 cups sugar
2 1/4 cups water
1/2 lemon juice
1 tablespoon rose or orange-blossom water
Directions:
1. To make the syrup: Combine sugar, water and lemon juice in a medium saucepan. Place over medium heat and cook until thick enough to coat the back of a wooden spoon, about 10 minutes. Add rose or orange-blossom water and simmer for a few seconds longer. Remove from heat and cover in a refrigerator until ready to use.
2. To make the batter: Whisk to combine flour, sugar and yeast in a large bowl. Gradually stir in water, beating until smooth and elastic, about 10 minutes. Cover and let rise in a warm place for at least an hour. Uncover and beat once more. Cover again and let rise another 30 minutes.
3. Heat two inches of oil in a large saucepan over medium heat until oil reached 375 degrees F. Coat two tablespoons in oil and spoon about a tablespoon of batter into hot oil. Turn batter balls occasionally until puffed up and golden brown.
4. When fritters are cooked, remove with a slotted spoon and transfer to paper towel to drain excess oil. Dip the fritters in the cold syrup to coat and serve.
These fritters are part of Christian tradition in Egyptian and other Middle Eastern countries. The zalabia dough is usually dyed red or yellow to symbolize joy and happiness. They are sometimes sprinkled with sugar or cinnamon before being served.
Traditionally on Christmas Eve in Egypt, everyone wears a new outfit to church. The service ends at midnight, when people go home to a special Christmas meal called fata, of bread, rice, garlic and boiled meat.
Erynn graduated from the Ryerson School of Journalism in 2014. She was a Ryersonian reporter. She interned with CTV News Channel as a chase producer and has worked alongside Sandie Rinaldo, Jennifer Burke and Jacqueline Milczarek.