Microplastics, as the name implies, are tiny plastic particles. Officially, they are defined as plastics less than five millimeters (0.2 inches) in diameter—smaller in diameter than the standard pearl used in jewelry. There are two categories of microplastics: primary and secondary.
Primary microplastics are tiny particles designed for commercial use, such as cosmetics, as well as microfibers shed from clothing and other textiles, such as fishing nets. Secondary microplastics are particles that result from the breakdown of larger plastic items, such as water bottles. This breakdown is caused by exposure to environmental factors, mainly the sun's radiation and ocean waves.
The problem with microplastics is that—like plastic items of any size—they do not readily break down into harmless molecules. Plastics can take hundreds or thousands of years to decompose—and in the meantime, wreak havoc on the environment. On beaches, microplastics are visible as tiny multicolored plastic bits in sand. In the oceans, microplastic pollution is often consumed by marine animals.
Some of this environmental pollution is from littering, but much is the result of storms, water runoff, and winds that carry plastic—both intact objects and microplastics—into our oceans. Single-use plastics—plastic items meant to be used just once and then discarded, such as a straw—are the primary source of secondary plastics in the environment.
Microplastics have been detected in marine organisms from plankton to whales, in commercial seafood, and even in drinking water. Alarmingly, standard water treatment facilities cannot remove all traces of microplastics. To further complicate matters, microplastics in the ocean can bind with other harmful chemicals before being ingested by marine organisms.
Scientists are still unsure whether consumed microplastics are harmful to human or animal health—and if so, what specific dangers they may pose. Even so, many countries are taking action to reduce microplastics in the environment. A 2017 United Nations resolution discussed microplastics and the need for regulations to reduce this hazard to our oceans, their wildlife, and human health.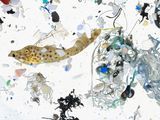 consumption
process of using goods and services.
cosmetics
substances applied to the body to make it appear more attractive.
marine
having to do with the ocean.
microplastic
piece of plastic between 0.3 and 5 millimeters in diameter.
plastic
chemical material that can be easily shaped when heated to a high temperature.
introduction of harmful materials into the environment.
radiation
energy, emitted as waves or particles, radiating outward from a source.
overflow of fluid from a farm or industrial factory.
textile
cloth or other woven fabric.