By Jacklyn Gilmor
Adriana Rocha was driving home from work with two friends when she heard news on the radio that made her heart drop. She told her friends to shut up. "It's Roy," she told them. "Didn't you hear? He got shot."
Ryerson marketing student Roy Zamora was only 26 when he was fatally shot in his driveway in October. His loved ones are still looking for answers as the police investigation continues. Rocha, 28, is a close friend of the family — so close she attends Zamora family reunions and is a customer at their currency exchange business. She says she didn't want to believe Zamora, whom she says was "like the perfect son," had been murdered.
"It was shocking because you don't expect that, not from anyone," she says. "When you know the person it's more shocking… I just saw his mom like three days before. She would be talking about him all the time. She really loved him."
Zamora is one of Toronto's record 96 homicide victims of 2018. People between the ages of 12 to 29 made up nearly half (45.8 per cent) of all the dead, the vast majority of whom were shot. In light of the record high, politicians of all stripes and from all levels of government are offering their perspectives for preventing the loss of so many young lives.
Federally, Conservative party leader Andrew Scheer says that if he is elected in this fall's election he will impose tougher gun licence policies and increase funding for policing and the youth gang prevention fund. The fund is a federal initiative to prevent young people from joining gangs and provide funding to communities at risk for gang activity. Ontario Premier Doug Ford has committed $18 million to the Toronto Police Service for resources "for fighting drug gangs and gun criminals," according to a news release from the provincial government. Toronto's 2019 budget included an additional $30 million for the city's police force.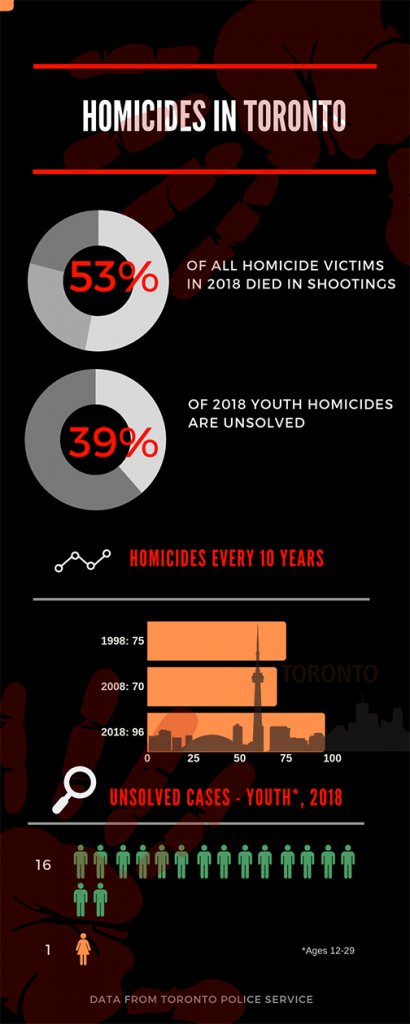 Some experts say, however, that these strategies don't address the real problem.
"The violence that [the city] saw in 2018 was almost predictable," said Louis March, the founder of the Zero Gun Violence movement in Toronto. "It's a reflection of what we did wrong yesterday. If you abuse, neglect, ignore, deny, and oppress people at that early stage in their life, there's a strong likelihood that gangs, drugs and guns will become part of their life."
March said that while the city keeps investing money in the problem, such as through police funding and social programs, the solution lies in talking meaningfully with young people about the solutions they need. He says that young people in at-risk communities have more access to guns than to jobs, and that the gun violence last year is different than the gun violence of 10 years ago, because more people have semi-automatics now and are smuggling handguns across the border.
Ryerson criminology professor Anne-Marie Singh said in an interview that reducing youth violence requires addressing the relaed crises of housing, income and access to education.
"Gun violence is a symptom of a society that doesn't take young people seriously," she said. The increased police funding, she predicted, will do more harm than good because the number of police officers has no correlation to the amount of crime.
There are indications that the voices of Singh, March and others are being heard. Eleven years after the Review of the Roots of Youth Violence report recommended the establishment of youth hubs and neighbourhood-based programs, Bill Blair — the former Toronto police chief who is now the federal minister of organized crime reduction — announced that $6.7 million will go towards a community healing project. The Toronto Police Service, meanwhile, is transitioning to a more neighbourhood-based policing model and running a program that teaches young people in vulnerable neighbourhoods skills such as resumé writing, wellness and career planning.
"I commend the police in Ontario and Toronto for the work that they do, because it's not easy work," said NDP leader Andrea Horwath in an interview. "They're also left to deal with where government policy has failed… We have to invest in the upstream to help people build a better life, as opposed to the downstream when they've become desperate and ended up in a life of crime."
She's not the only one who thinks so. Kristyn Wong-Tam, the city councillor for Toronto's Ward 13, says that the city is still not doing enough. She says the youth equity strategy has gone largely unfunded even though "youth violence has really escalated with respect to the numbers of those who are involved with gun injuries and gun deaths." She also said that Canada needs tougher gun control laws.
Rocha says she hopes various government initiatives will actually make a difference.
"At this point, I still think it's not real; it's like he's still going to be there and he's still alive," she says of Zamora. "The worst part is that nobody knows why. At least if you know why, you kind of heal in the process."
This is a joint byline.
Ryersonian staff are responsible for the news website edited and produced by final-year undergraduate and graduate journalism students at Ryerson University.
It features all the content from the weekly campus newspaper, The Ryersonian, and distributes news and online multimedia, including video newscasts from RyersonianTV.
Ryersonian.ca also provides videos, images, and other interactive material in partnership with the School of Journalism.