Trump is biggest threat to press freedom in US in my lifetime, says Dan Rather
Journalism Is Not A Crime: Veteran broadcaster tells Andrew Buncombe situation confronting media 'unprecedented'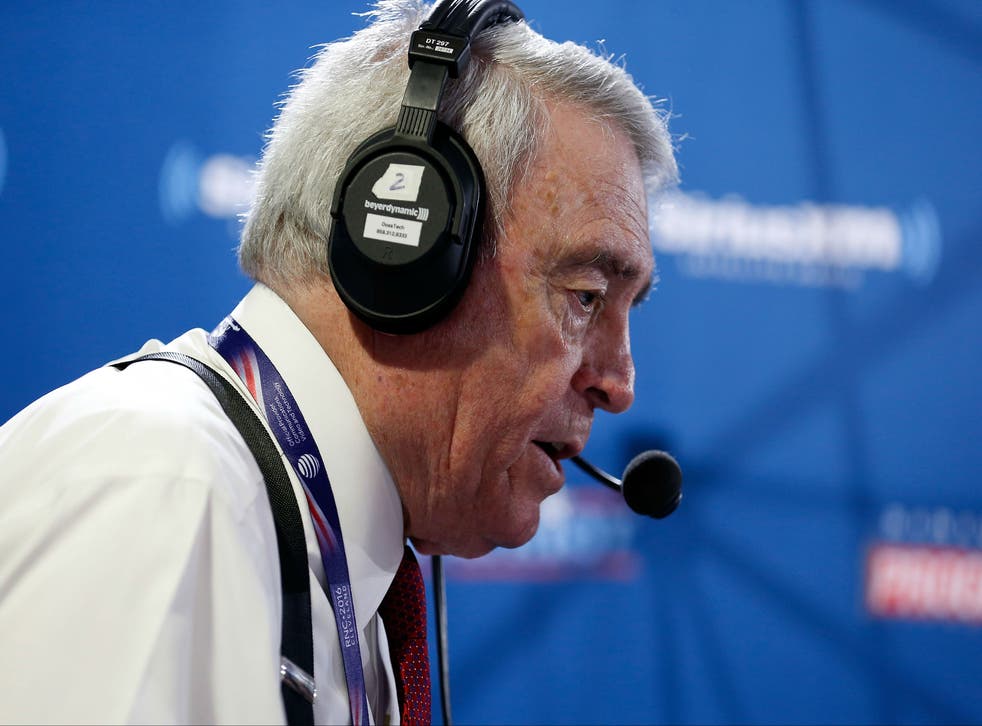 Leer en Español
Donald Trump and his presidency represent the biggest threat to press freedom he has seen in his lifetime, says veteran broadcaster Dan Rather.
Rather, 88, whose in-the-field reporting has ranged from the assassination of John F Kennedy and the civil rights struggle, to the Vietnam War and the presidency of Richard Nixon, said the way Mr Trump demonised the media, and the impact this had on society, was like nothing he had seen.
Yet, he also criticised some in the press for failing to confront the president and call out his lies, and said the biggest challenge for the media may yet lie ahead, on next month's election day, and in the days immediately afterwards.
"There's no comparison to be made. We, as a country, as a people or society, have never been through anything like this," he told The Independent, by telephone. "And the press has not been through anything like this."
He added: "The closest thing would be the Nixon years. However, there are great differences between now and the Nixon time. This is unprecedented."
Rather, who served as the anchor of CBS Evening News for almost 25 years and as such was one of the trio of dominant broadcasters who delivered the news to millions of viewers who tuned into the major networks at the height of their power and influence, has emerged as an acerbic critic of the president, both in person and on social media. While his 1.4 million followers do not come close in number to those of the president, they point to a widespread respect and admiration among at least a swathe of US society.
Dan Rather: Donald Trump is 'mean as a wolverine'
Rather is never more passionate than when talking about the state of the media, the trade to which he dedicated much of his life, starting his a career as a reporter for the Associated Press in Texas, before switching to television. He spent 10 years as a White House correspondent.
For all of Mr Trump's claims he is mistreated by the media or "fake news", Rather said the opposite had been true. He said because of much of the media's attempts to try and cover the Trump presidency in the way it covered those that went before it, it was forced to put itself in "contortions".
"I want to always try to be careful not to overstate things, but I've come to believe this has been one of our problems for those of us in the press. That we're so worried about possibly overstating things, that we have understated for too long," he said.
The Independent employs reporters around the world to bring you truly independent journalism. To support us, please consider a contribution
"So when I say that the press spent too long, and I include myself in this criticism, too long engaging in false equivalency, and so called 'both-sideism' … Donald Trump is taking advantage of that."
He added: "I think that, particularly in the last year-and-a-half, I think the press has done a better job of saying to itself 'Look, we have to report on him and who he is, and what he's doing, not what we hoped that he'd do, and hoped that he would be."
Rather, who in 2017 authored with Elliot Kirschner, What Unites Us: Reflections on Patriotism, said that because the US president represents both the head of state and the head of government, American journalists sometimes struggled to walk the careful line between respect for the office, and holding that person to account.
He claimed Mr Trump was different because he himself had no respect for the office. He said it was essential the media point out when the president told lies, even if that risked losing readers and viewers who are his supporters.
"By treating President Trump in a 'normal way', and stretching this respect to the office, overlapping with respect to the person, that helps him with his lies, and helps him with his cheating, with all these difficult words we've already used," he said.
"I think journalists who are going to think about it are going to say to themselves, 'I'm going to do the work, I'm going to do it as well as I can, I'm going to get as close to the truth as I can. And the chips will have to fall where they may'."
Mr Trump has been wildly criticised for his treatment of the media, denouncing it as being "fake", and acting insultingly or aggressively toward many of those who question him. He has been seen to get particularly angered by questions leveled at him by a group of women White House reporters.
The Independent has launched a campaign to defend press freedoms in the United States – Journalism Is Not A Crime – in the run up to the election and afterwards.
It did so after dozens of journalists – including one of its own correspondents – were arrested by police while covering protests for racial justice that took place this summer that were triggered by the killing by police in Minneapolis of George Floyd, an unarmed African American.
The death of the 46-year-old, who was videoed saying he could not breathe as a white officer knelt on his neck for almost nine minutes, was just the latest in a succession of fatal encounters between the police and unarmed people of colour.
Rather's career at CBS came to an end in 2005, when he was ousted amid controversy over a 60 Minutes story about George W Bush's national service record. The story, which many believe to be true, made use of documents it was alleged were not authentic.
Four senior news staff were fired after a CBS panel concluded the piece was "neither fair nor accurate" and did not meet the organisation's internal standards.
Rather, who still presents broadcasts on AXS TV and on the YouTube channel The Young Turks, has always stood by the underlying claims in the story, that Bush used family connections to gain entry to the Texas Air National Guard to avoid serving in the Vietnam War. It also alleged the former president was unaccounted for for a year of his assigned duty to that unit.
A 2015 movie of the controversy, Truth, starred Robert Redford as Rather and Cate Blanchett as ousted CBS prouder Mary Mapes, whose memoir inspired much of the action
In 2015, Rather told the Los Angeles Times: "The pressure got on from powerful people, including the White House, and the corporation disowned the story."
Speaking from Austin, Texas, Rather said that while Joe Biden was doing as well as he could and appeared to be leading the race for the White House, there was a way for reelection for Mr Trump. "I learned a long time ago that he who lives by the crystal ball, tends to eat a lot of broken glass. And I have eaten more than my share, so I am not gong to make a projection," he said.
"Biden leads at the moment, as best I can make out. But neither he nor any other Democrat or anybody else can kid themselves, that Donald Trump has a very solid, loyal base. And there is a path by which he can win."
The Independent employs reporters around the world to bring you truly independent journalism. To support us, please consider a contribution
Join our new commenting forum
Join thought-provoking conversations, follow other Independent readers and see their replies