Last May the choir received news that it will have to disband and leave its rehearsal space, due to funding cuts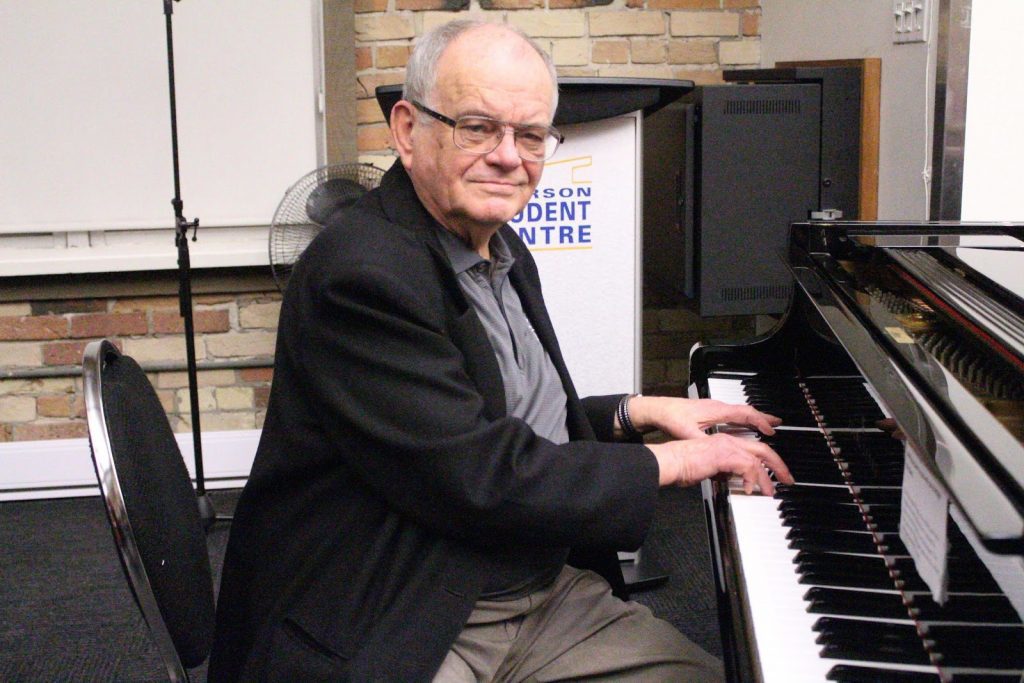 Ryerson's Oakham House Choir is busy preparing for its upcoming performance of Felix Mendelssohn's oratorio, Elijah, but the possibility that this may be the group's last performance looms.
Elijah is an oratorio by legendary composer Mendelssohn, about the life of the prophet Elijah. The Oakham House Choir describe it as a "high drama from the Old Testament" and will perform it at the end of the semester, on April 25.
"We wanted to do ambitious repertoire to give the students an opportunity to perform and to know masterpieces of classical music," said Matthew Jaskiewicz, the choir's music director. "Elijah is a large, large oratorio and because we pick big, famous pieces of music, people from outside of Ryerson join us because we are one of very few choirs which perform regularly with an orchestra."
The choir is currently recruiting and rehearsing for the performance, but uncertainty still fills the room. In May of last year, the choir received news that it will have to disband and leave its rehearsal space by the end of the 2019-20 school year, after 30 years of operation.
The news came in the wake of Premier Doug Ford's Student Choice Initiative, which allows students to opt out of funding certain student programs, leaving the Oakham House Choir with minimal funds.
"When we learned the news, it was a shock for the choir and now we are frantically looking for solutions," Jaskiewicz said.
Before these funding cuts, the Oakham House Choir received funding from the Palin Foundation Board, which facilitates funding and operations of the Student Campus Centre.
Last semester, the Ryersonian reported that the choir was looking to assume independence from the Palin Foundation and take control of its own rental spaces, funding and accounts. The choir hoped to fundraise to cover the expenses needed to operate independently.
But as the second semester of the school year begins, there have been no updates on donations or fundraising efforts. With time running out, the choir has turned to a last-resort plea — a meeting with Ryerson president Mohamed Lachemi.
"He promised he would help," Jaskiewicz said. "We introduced ourselves and we hope he sees that having a choir at the campus will benefit the university, because we are kind of a connection between the university and the open community."
An open community is exactly what the choir is. The second-floor rehearsal space in Oakham House on Monday nights offers a space for current students, alumni, staff and community members to share a love for singing.
"One thing that distinguishes Ryerson from a lot of other universities is its community accessibility, and its incorporation of people of all different ages, different skills, different paths," said first-time member Jolene Hunt, who is completing her PhD in economics at Ryerson.
Hunt first heard about the choir a few years ago. After seeing a poster advertising this year's tryouts, she decided it was time to get back into music. "Now that I've finally made the time to join this, I would be really upset if it was gone," she said.
William Lee is one of the choir's many alumni, graduating from Ryerson's computer science program in 1985. After joining in 2011, his involvement with the choir quickly grew, and he soon became one of the choir's committee members and the section helper for the basses. He said the possibility of the choir disbanding is terrible for the Ryerson community.
"There's a lot of alumni who come back to join us and we just sing for fun. It would be exciting to be able to continue."
Twenty years ago, Roxanne Cuevas joined the choir while studying photography at Ryerson. Having served as an active member of the choir since 2000, she remains hopeful that it will be able to garner enough support to continue. "It's such a shame because I think Ryerson university should do much more," she said.
Cuevas is excited for the upcoming production. "The level of this choir is much, much higher than any other choir that I've been (a part of) so far."
While members seem confident that Lachemi is interested in helping the choir out, their focus will shift to their performance at the end of this semester.
"For now we are working towards another regular concert and hoping that others will follow," Jaskiewicz said.