READERS PLEASE NOTE: This article was published
Students share their travel experiences as part of Global Learning Week
Ryerson International gave a voice to students who've studied abroad in the first-ever student storytelling event on Oct. 29 at the DMZ Sandbox in the Student Learning Centre.
The event was called "Through the Looking Glass: Stories about Living and Learning Abroad" and featured six Ryerson students and one professional speaker sharing true stories about their experiences with travel.
"We encourage our students to go abroad, we encourage our students to get this global experience," said Samantha Larocque, student mobility officer with Ryerson international. "I think this is just a really fun and interesting and engaging way for students to process their own experience and then share that."
Larocque helped organize the event in collaboration with Replay Storytelling, a true storytelling show. Last month's event was the first time Ryerson has collaborated with Replay Storytelling, "and hopefully not the last," the group's artistic director Paul Aflalo said.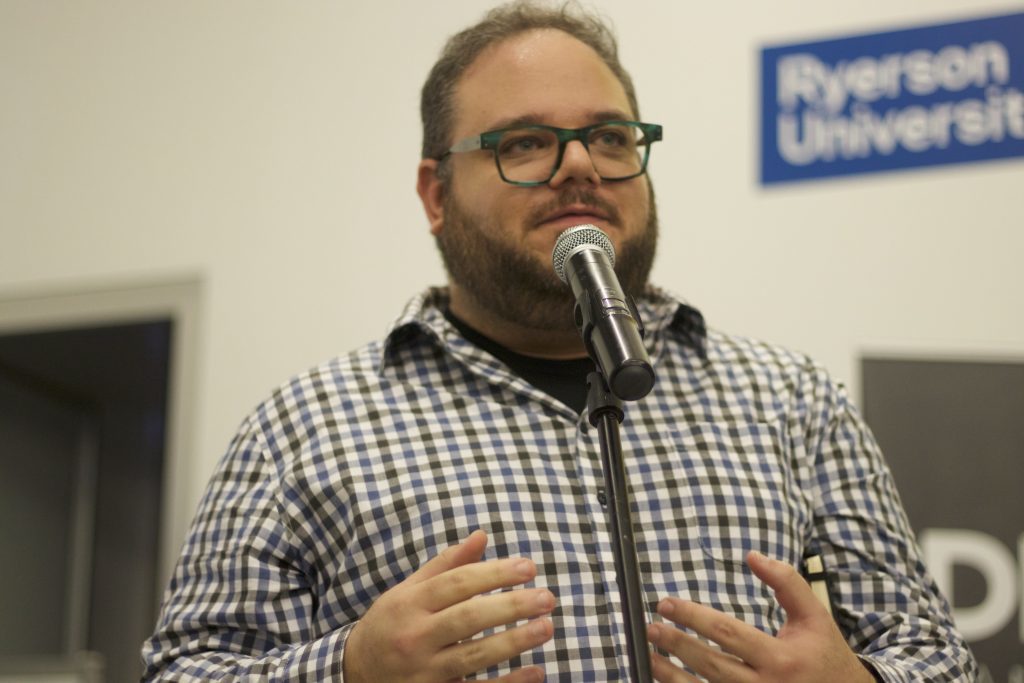 "I think it's important for students to share their own personal lived experiences," Aflalo said, adding that all the students who spoke at the event were first-time storytellers.
"We want first-time storytellers on our stage," Aflalo said, "because anyone can be a storyteller." Aflalo said many of the students don't even have a background in performance.
Urbi Khan, one of the storytellers at the event, is a fourth-year journalism student at Ryerson who said she had to completely rewire her brain to write creatively and expressively, rather than reporting facts.
Khan said she had "jitters, but the good jitters" about her first experience with public speaking. "It's kind of nerve-racking, because people are giving you their time to listen to your story," she added.

The story Khan shared at the event dealt with how travel affects identity, and her experience with her own identity as a Canadian born in Bangladesh.
"Identity is so nuanced for everyone," Khan said at the event. "Everyone has their own individual experiences that are layered."
Aflalo said storytelling like this is a way people can share their individual experiences to learn and grow from one another. Aflalo emceed the event, opening the evening with a story of his own about surprising his family in France.
The other student storytellers were Delesha Shaw, Mona Mortensen, Oliver Jones, Maha Jawass, and Nikita Sandreacha. Their stories dealt with everything from buying the wrong bus ticket in Turkey to watching Finding Nemo with students in a Himalayan monastery.
The event was closed by guest storyteller Jon Bennet, who told a story about a friendship he forged with a stranger while hiking in South America.
Replay Storytelling's next show, called "All in the Family," is set for Dec. 4.