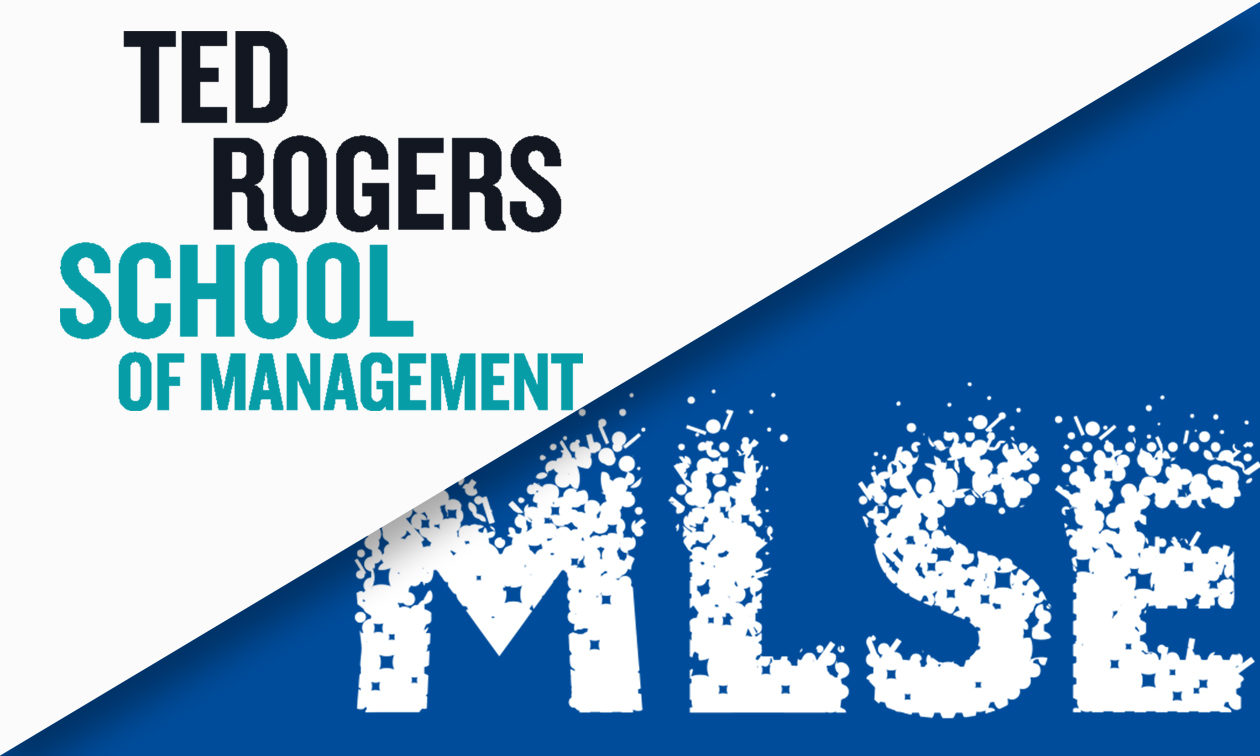 Ask any aspiring sports professional in Toronto about the ultimate place to work, and the significance of Ryerson University's partnership with Maple Leaf Sports and Entertainment (MLSE) becomes clear.

Ryerson students with a passion for sports business have landed their dream team, with the new collaboration between MLSE and the Ted Rogers School of Management (TRSM). The partnership, which was announced Sept. 11, initiates a lab, called the "Future of Sport Lab" (FSL), where students can connect their ideas with industry personnel and entrepreneurs in sports marketing.

"There really hasn't been a predictive way of coming up with a good idea, getting into a sports or entertainment franchise or team, having that conversation and getting the green light to pilot it … ," said Humza Teherany, chief technology and digital officer at MLSE.

It has been in the works since 2016 around the time of the NBA All-Star Weekend, when the event made its way to Canada for the first time in history.

Teherany added that MLSE is focused on making the entrepreneurs in this program successful through the business process, when developing their ideas. This lab will help students get the mentorship they need from a research and technology perspective and through a business standpoint. It could also mean more jobs opportunities for students and entrepreneurs.

"I think that with the launch of many of these innovations across our business, it will end up creating new technology, innovation, digital, and marketing kinds of roles," said Teherany.

Christian Steeds, vice-president of corporate relations at the Ryerson Sports and Business Association, said MLSE can help further grow the Ryerson brand. Steeds is spearheading the marketing for the Rams Pack, a dedicated group of fans that attend games regularly to cheer on the Ryerson Rams, and he can already envision how this new initiative would help him.

"Our goal is to help fill those seats," said Steeds. "This [lab] already presents an avenue on where we can go and use their resources to help us grow the athletics and viewership and get more fans in seats for games."  

Cheri L. Bradish is the main operator from the Ryerson end of the partnership and also the Loretta Rogers Research Chair in Sport Marketing. Bradish said she hopes this collaboration will elevate the sports business curriculum at both the graduate and undergraduate levels.

The sports marketing connections at Ryerson have already brought the likes of Raptors' executives, Masai Ujiri and Teresa Resch, to events and classes at the university. All that's missing are the young, innovative thinkers that walk the halls of TRSM.

"We wanted to be able to be involved so that we can circle it back to our education … and because we have some really great industry people working with us now at Ted Rogers in the sports space, we wanted to be able to say, 'Hey, we think we've got some really smart people around the table,'" said Bradish.

She also added that the FSL engages interns and allows students to do independent studies. They have already hired two interns. MLSE and Ryerson's leadership in technology and innovation may help students and entrepreneurs in the job market.

"For a business student it is very interesting because the business market and sports industry are increasing day by day and having such a place will definitely be great for us," said fourth-year business management student, Muhammad Haroon. Haroon is also the director of basketball operations for the Ryerson men's basketball team. He added that an opportunity like this would enable students to easily pursue ideas from class.

With creativity and innovation at the forefront of this partnership, Teherany is excited to see what the future holds.

"My favourite part of any innovation," said Teherany, "is not knowing what the heck is going to happen."